Part Three; Emergence from the Wild


We have emerged out of our retreats in the woods. Magical! For a few days we parked our RV on a wooded bluff overlooking Lake Barkley in SW Kentucky. In the afternoons, we hiked through wonderfully fragrant hardwoods, pines and cedars. We followed "the Trace," a well paved road through the interior of the Lake Between the Lakes that took us through wilderness. Wildflowers bloomed in profusion next to the road, white, yellow and blue, plus vibrant red-orange milkweeks.

From there, we travelled west to the joining of the Ohio and Mississippi Rivers. At this place of great power (two huge rivers joining into one), there were Indian mounds. We stopped there in the ancient place to do our honoring of the summer solstice. We felt the presence of many spirits of nature there. Crossing into Missouri, we stayed on another bluff overlooking the Current River in Van Buren. One afternoon, we canoed or rather smoothly skimmed down this near-pristine river. Recent rains left the river flowing quikcly, and since we could clearly see the bottom beneath us, we felt as if we were flying a few feet over the smooth rocks. Ripples of water on the surface travelled along with us. Trees leaned over the water reflecting into it green shades. Underwater plants turned sections of the river into a gorgeous prussian blue (prussian blue was a color of Crayola crayon when I was a kid - remember it?) or radiant teal blue.

Nearby, we visited Big Spring. It's aptly named for it's the biggest single outlet spring in the USA. Between 150 and 800 million gallons of cold water a day emerge "boiling" out of a rocky hillside into prussian blue pools that turns into an instant river twenty feet wide. This clean mineral water, high in calcium, worked its way through up to 40 miles of dolomite rock to arrive at this place of emergence. The shape of the surrounding land with its natural walls and hills was magical, and pathways of cleverly carved stone (laid by WPA forces in the 30's) led through overlooking forests. We suspect, due to how high we got just being there, that this was probably a major power point in the old days. If this spring were in California, a whole new age city would have sprung up around it and womyn would probably do goddess dances there on the full moon. As it is, a lot of people have their weddings here.

The land all around is beautiful, despite that the forests are young. Everywhere had been logged completely somewhere between the 1890's and the 1940's. There was still a residual sadness over the loss of the huge ancient ones (trees). We drove for miles through lush green canyons of trees covering mountain after mountain in the huge Mark Twain National Forest, then paused at an overlook to see the beautiful misty land. This area has had excessive rains, even floods only a few weeks ago, so all the creeks and rivers are high and flowing fast.

We also stayed three nights at Meramec State Park in the central part of the state. We registered online and easily found our spot when we arrived. However, there was a fire enthusiast next to our site. In midday, he already had a smoky fire going and was bringing in more and more firewood. I have a lot of difficulty breathing smoke all day and keeping our windows shut all the time, so we appealed to the park host. Although it was "against the rules," he found us a spot by ourselves on top of the mountain - quiet and smoke free! We were in bliss, listening to the wonderful sound of songbirds. I slept great! I love it when magic like that happens. If we didn't have a deadline to be in Denver, we would've stayed several more days.

Hope you're having a great summer!

Ginger

Here are a few pictures, although they don't do the views we saw justice.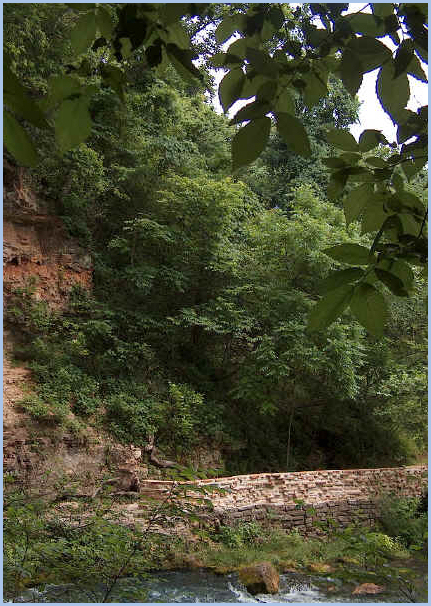 Big Spring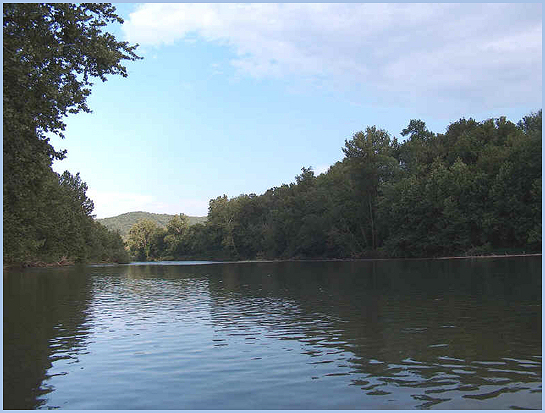 Current River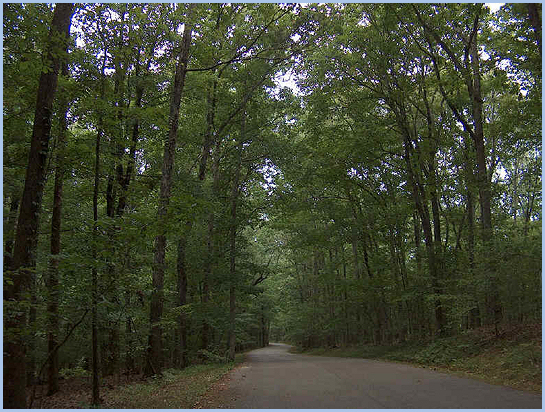 Lake Barkley Drive